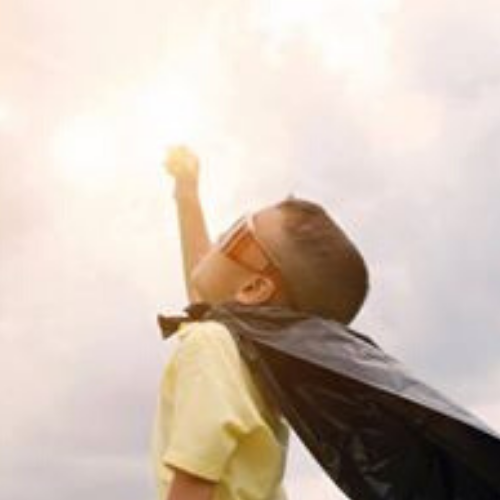 I've been "out on the edge" in the arena of autism for the last twenty plus years. When I first started speaking publicly about the multidimensional awareness of this population people thought it was nonsense. And that was OK, because the information provided by the children and the proof that played out through my experiences with them was all that I needed to continue sharing on their behalf.
The children guided me step-by-step to help meet their needs and desires. For this reason, I know beyond a shadow of a doubt that there is an aspect of them that knows exactly what they need. The trick however is not just to hear their request, but to trust yourself enough to act on what they suggest.
So what makes me so certain that I can transfer what I know and have learned from them to you? That's simple. It's because they have never asked me to do anything on their behalf that was not possible, albeit unconventional. In addition I've worked with thousands of families and have seen first hand what is commonly helpful to their children and what is not! In this series, I'll pass that all on to you!
What's It All About?
Do you desire to support those on the spectrum to be as fully present here as possible?
Are you ready to grow beyond anything that you thought you knew in order to support that process?
Would you like to understand the energetics and science behind integration?
This series explicitly explores what it actually takes to support the integration of those diagnosed with autism. This means that they show up more fully here without having to loose any of the amazing gifts and skills that they came with into this life.
If you know my work, you'll know that I do not believe that those on the spectrum need to be "fixed". Furthermore, I not only believe, but have repeatedly experienced that this population has skills that much of humanity have yet to mature into. That said, it is also clear that for a variety of energetic reasons, rarely productively explored, this population meets with significant challenges functioning in this world.
For reasons too complex to mention here, this population has scatter aspects of themselves energetically into different realms and realities in order to incarnate here, which makes sharing all that they have access complicated.
But what would happen if we could create an invitation to those distant aspects to integrate into their human experience and to bring with them the awareness, love and knowledge they possess.
Throughout my years of supporting the integration of this population, I have seen everything from positive shifts in communication, behaviors, and parent-child relationships to greatly enhanced degrees of presence. I've witnessed their expressions of wisdom beyond that which many would consider possible. They've taken me into their worlds and provided me with the awareness and methods that I will share with you in this series.
While there is no down side to their integration, if you suspect that there ability to be here is all about them, then I invite you to think again, because their integration represents an opportunity for you to evolve your consciousness. In fact, without your shift, they can not offer what they would like to share. But don't let that deter you, because this process will offer you everything you need to create a shift within your own consciousness significant enough to enhance your experience and theirs.
Who Is It For?
Regardless if you have been following my work for a while, are brand new to all of this or you have had your own beautiful experiences with energetically sensitive children, the fact that you are here means you know that there is magic hidden in these kids. It also means that this population is calling you to something beyond what you have known and experienced to date.
Parents, educators, therapists, physicians and meta-physicians are all welcome. It does not matter how you currently engage with this population, because we are going to be discussing and engaging with them from a very different perspective. What matters most is your genuine intention to support their integration and a willingness to understand how your integration and theirs are deeply interconnected.
This series is for those who want to not only energetically understand those with heightened energetic sensitivities, but who also want to evolve into some of their skill sets, while supporting their presence on the planet.
It is for those who want to access what is in store for humanity as we evolve, while simultaneously creating an energetic environment for those on the spectrum to release some of the challenges of being here.
This twelve weeks is a beautiful ride into the hearts, minds and energetics of highly sensitive children. Your child does not have to be formally diagnosed for you to participate. Your child also does not need to be present during these sessions, and multiple children can be addressed. Suzy will be able to connect with them regardless of where they are, or the number of children, and offer personalized information as needed.
Our children are showing up very differently these days and so if you seek to fully understand and support that difference, this may be just the series for you!
What Do You Need To Know?
If this series resonates with you then here's what to do.
First, please email Suzy at suzy@suzymiller.com so we can schedule a 20 minute conversation  (free of charge), for her to learn a bit about your background with this population. This is a "get to know you call" and will assist Suzy in supporting your intentions for joining the course. 
Second, once we have agreed that this process can be of support, you can register for the course.
The Collective Consciousness of the Children will be right with us every step of the way! They will help to refine your individual and our group process, and because we will meet on zoom live, you will not only be able to clarify any information regarding the process, but also be given specific details as to how to apply it as we move through the series.
You can review all the topics of conversation listed in the schedule below! Each session will provide you with information and the energetic support to help you integrate it in ways that are as meaningful for you as they are for those on the spectrum.
Awesomism: The Integration Series will begin October 20, 2021 and end on January 5, 2022.This twelve-week series is offered at 9:00 AM  Pacific time, on Wednesdays.
This series is held live via Zoom. Details will be made available upon registration.
Calls are approximately 75-90- minutes in length, and all sessions will be recorded and available on our member site within 24 hours.
SESSION ONE: October 20, 2021
AUTISM AS EVOLUTION
In this session you will hear a very different story about those diagnosed with autism. This is a story of love, of consciousness, of multidimensional integration and of an evolutionary trajectory that puts those on the spectrum light years ahead of most.
SESSION TWO: October 27, 2021
ADVANCED SENSORY APTITUDE
We all know that children on the spectrum have heightened sensory systems and you also know the challenges that go with heightened sensitivity. What you may not know is how that sensory actually works and how you can support them through sensory information. That's what this session is all about!
SESSION THREE: November 3, 2021
MORPHOLOGICAL NOT BIOLOGICAL
Those on the spectrum experience the world from a morphological perspective or through fields of evolution. In this session we will address the significant implications of this mode of perception and what their needs are because of it.
Note: Our next class will be in two weeks with a break on December 23rd for Christmas vacation.
SESSION FOUR: November 10, 2021
EMOTIONAL BODY TRANSFERENCE
In this session we will discuss the dynamic and all pervasive impact that emotional coherence, or lack there of, has on this populations ability to function coherently in this world! We'll discuss how to use their sensitivity to emotional energy to draw them into interaction versus push them away.
SESSION FIVE: November 17, 2021
TIME SPACE INTERFERENCE
Children on the spectrum have a unique relationship to time and space. It is one that is rarely understood from the neuro-typical perspective. In this session we will learn how to shift our perspective of time and space to interact with theirs.
SESSION SIX: November 24, 2021
COMMUNICATION BEYOND WORDS
In this session we will discuss the various types of communication including behaviors, spelling, facilitated communication telepathy, light language and information transfer. We will learn how to ask and get answers from them regardless of their mode of communication.
SESSION SEVEN: December 1, 2021
CYCLICAL NOT LINEAR LEARNERS
There are so many myths about how those on the spectrum learn and/or take in information. The collective insistence that life is linear, is one of their greatest challenges.  This session will help unwind those myths and create a deep understanding of their learning style.
SESSION EIGHT: December 8, 2021
MULTIDIMENSIONAL ACCESS
Those on the spectrum have access to more information than you can imagine. They also process information very differently than most. In this session we'll learn the specifics of what they have access to and why their way of processing information is the wave of the future!
SESSION NINE: December 15, 2021
HIGHER DIMENSIONAL REALITIES
We all know we are in the midst of a very real shift in human consciousness. How does this impact those on the spectrum and can it assist their ability to be here? In this session we'll answer these questions and also address how they are reaching out to and interacting multidimensionally with those who will listen.
SESSION TEN: December 22, 2021
COMPLEXITY TO SIMPLICITY
For those with the eyes to see and ears to hear, it's clear that the multidimensional worlds of those on the spectrum are complex. In some cases it can be like two beings trying to live in the same body. In this session we'll discuss how to step simply through this complexity and support their integration with ease and integrity.
SESSION ELEVEN: December 29, 2021
FOLLOWING THE BOUNCING BALL
At a certain level of awareness, those on the spectrum know what they require for their own integration. The trick is to access the part of them that knows and then to be willing to follow that lead! In this session we will address the channels needed for that clear connection and most importantly address the pitfalls that can so often derail our ability to support their integration process
SESSION TWELVE: January 5, 2022
LOVE WITHOUT CONDITION
That crazy word love! Do we really know what it means? Those on the spectrum seem to have a unique perspective on love. They understand the energy of love and are not really interested in the word or the insane projections that go with it. In this session you will come into a greater understanding of their awareness of love and how you can use that understanding to support yourself and them.
ADDITIONAL RECOMMENDATIONS
CLEARING YOUR FIELDS IN PREPARATION
Upon registration, you will receive an audio recording to assist in clearing your primary energy fields.  It should be completed at least once prior to beginning this series as it will create a common foundation for us to expand from! This recording can be repeated as you see fit during the course. It can also help to keep the energy moving as we open to and expand our understanding of those on the spectrum.
THE PRESENCE PROCESS
The Presence Process by Michael Brown offers a great foundation for the emotional coherence necessary when energetically engaging with those on the spectrum. It is suggested that you read at least the first two sections of his book, but it is not required to participate in this course.
REGISTRATION
If you have questions regarding this process, you are welcome to book a free twenty-minute consultation with Suzy, prior to your registration. This consultation is not required for registration. If you're ready to jump in, you can do so when you feel ready!
UPON REGISTRATION YOU WILL HAVE IMMEDIATE ACCESS TO THE MEMBER SITE WHERE YOU WILL FIND ZOOM DETAILS AND OTHER PERTINENT INFORMATION FOR THIS SERIES.
ONE TIME PAYMENT
Total Price $900.00
One payment of $900 paid prior to first session.
TWO PAYMENT OPTION
Total Price $1,000.00
$500.00 followed by $500 in one month. Total price $1,000.
THREE PAYMENT OPTION
Total Price $1200.00
$400 followed by $400 monthly for two consecutive months. Total price $1200.