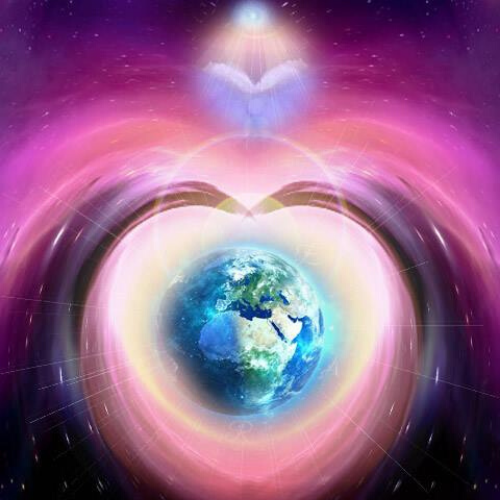 LET LOVE TRANSFORM
Through our current world situation, we have the opportunity to function as love or from our conditioned slave self. We access this capacity by aligning with the frequency of love, not the slave self version of love.
The way we perceive the outer landscape and our own inner landscape are often mirrors. This is great news!
It means we have a consistent guidance system directing us back to who are truly are, as love, in every moment of every day!  When we hold fear, it does not mean that we are wrong or broken or not enough. It means we have an opportunity to re-align with the love that we are.
In this way we can use all the experiences that are arising now to reveal the greater truth of who we are. As you transform so does the world. As you feel empowered so does the collective. As we stop choosing a false reality and live from the frequency of love that we are, false realities cease to exist. You have all the power. That power is love and in this series we remember how to access it for personal and collective transformation.
We came here to enjoy the process of reclaiming our power, not suffer through it.  Journey as Love and our current collective experience provides the frame work to do just that. Join us and experience the love/ power that you are!
Use the confusion of the world to transform it
Move into the beautiful experience that is life regardless of what is going on in the world.
Reclaim the true power of your Being
Restate your inner story
Be the greatest gift you can be to humanity by beinging authentically YOU.
Shift your perception of discomfort and move beyond suffering
Grant yourself the gift of true empowerment from the inside, out so that nothing can disrupt you.
This series offers, not only, a shift in perception, but also a shift in experience through information and multilayered detailed energy work. We will consciously use the emotions, beleifs and experiences that are surfacing during this time to reveal the purity of your own Being. This process offers a functional means to evolve your current life experience into much higher frequencies, by accepting the deeper opportunity presented in every moment.
Each session is guided by the deeper requests of each participant and thus uniquely supports each individual as well as the collective group.  The benefit of moving through this process, as a group, lies in the individual insights, collective support and inner connections that naturally arise in a community with a common intent. That intent is to reclaim the greater truth of who and what we are!
NEW DATES TO BE ANNOUNCED
9:30 AM Pacific Time.
 Details will be made available upon registration.
Calls are approximately 60-75 minutes in length, and all sessions will be recorded and available on our member site within 24 hours of the call!
SESSION ONE:  The world we came to create.
SET YOUR NEW PERSONAL REALITY 
In this session, we will set the energy for the world that you want to live in. We will energetically create the necessary safe space required to support your journey to your requested destination. Dream big, because the world that you want, also wants you!
SESSION TWO: What comes up the moment we chose to create.
SHIFT SURVIVAL STRATEGIES TO THRIVING
In this session we will identifiy the survival strategies that imediately come up when we set a new vision for the furture. You will be offered both energetic support and the tools to meet these core stratagies.
SESSION THREE: Why those strategies come up for everyone on this planet.
SLAVE SELF CONDITIONING
In this session we will address head on the reality of the world that we were born into and the hidden capacites that we each hold to transform it. We will energetically strengthen this capicity and address our emotional well-being.
* Next weeks session will be skipped dur to Chidlren's Sanctuary
SESSION FOUR: What we need to understand to move beyond that core conditioning.
WHAT'S AT THE CORE 
In this session, we will take a loving look at the fears that we cannot control. We will also learn why attempts at control are futile and we will place our focus on developing our will.
SESSION FIVE: How we can use the world reality to create beyond it.
WHAT THE OUTER WORLD IS SHOWING US
In this session, we will address the various aspects of Self that feel separate and how to unify them. We will energetically create a firm foundation within to return to no matter what arises out in the world.
SESSION SIX:  So what is the greater reality of who we are?
WHAT CAN WE DEMONSTRATE TO THE OUTER WORLD?
 Here we will reign our awareness of who we are in truth, what we are in truth and how we serve in truth. We will move beyond the conditioned reality of who we were taught to be and remember to simply BE.
There will be no session next week in observance of Thanksgivng Day. We have so much to be thankful for!
SESSION SEVEN: How can we trust that?
TRUSTING YOUR GUIDANCE SYSTEM AND THE GREATER REALITY OF YOU
In this session, we will address guidance from the mind, the heart and the gut. We will strengthen our capacity to trust our inner awareness and move with fluidty in that trust.
SESSION EIGHT: Does Love always  win?
LOVE AS POWER
In this session we will explore the true nature of love and thus the power that it is. We will address how we can unify the various aspects of ourselves in Love and thus be a powerful force of transmutation.
.
SESSION NINE: What about my body?
TRUSTING YOUR BODY
In this session, we will address the gift of having a body and trusting it to play its part in helping you to integrate all separated aspects of self. We will energetically eliminate hidden layers of shame or guilt to re-establish a deep trust in your body.
.
SESSION TEN: What about these weird experiences I'm having?
THE OTHER DIMENSIONS OF YOU
This session we will address the higher capacities that naturally emerge as you release yourself from the slave self. Don't worry about these capacities showing up because you already know what to do with them. Here we will offer the energetic support and conscious tools to access more of you!
SESSION ELEVEN:  What else happens as you transform back to love?
THE NATURAL UNFOLDING OF YOU
This session  continues last weeks support of  the natural unveiling of the greater truth of you and the skills that come with the greater reality of YOU. We all have capacities that we have not even begun to acknowledge and or untilize, but it is a natural byproduct of this series to have access to more.
SESSION TWELVE: January 27, 2022 
                                                                                 PRACTICAL APPLICATION
In this last session we will address any questions that have not been answered sufficiently in the series and offer a resetting off are energetics based on where we are NOW so that you move forward in the world supporting yourself and others by your presence alone.
RECORDING OF THE DIVINE MOTHER
This is a recording of a song from the Divine Mother made up of tones and light language. It is designed to be used prior to each weekly session to open your innate innocence and receptivity to All That You Are. It can also be used to soothe and restore your trust in what lies beyond separation at any stage of your journey.
.
REGISTRATION
If you have questions regarding this process, you are welcome to book a free twenty-minute consultation with Suzy, prior to your registration.
UPON REGISTRATION YOU WILL HAVE IMMEDIATE ACCESS TO THE MEMBER SITE WHERE YOU WILL FIND ZOOM DETAILS AND OTHER PERTIENT INFORMATION.
ONE TIME PAYMENT
One Payment of $900.00
Special Rate: One payment of $900.00 paid prior to the first session.
TWO PAYMENT OPTION
Total Price $1,000.00
Special Rate: Pay $500 followed by another payment of $500 one month later.
THREE PAYMENT OPTION
Total Price $1,200.00
Special Rate: $400 followed by $400 monthly for two consecutive months. Total price $1,200.00